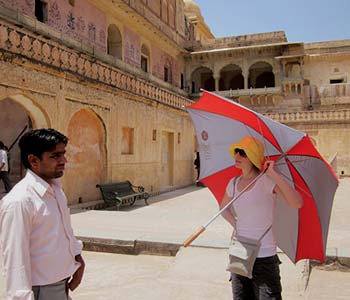 Jaipur is situated in an arid, semi-desert region, which has three distinct seasons. Only one season is suitable for visitors, therefore pre-planning is essential before travelling to India and Jaipur. The three seasons of Jaipur are; a warm dry winter, an unbearably hot spring/summer and a brief but intense monsoon season. Unsurprisingly the best season to visit Jaipur is during the winter months, from early November through to February and this is the height of the tourist season.
Jaipur is one of the cities in India that is popular for its unique culture, tradition and ethnicity. Well the harmony and the appearance among the folk also leave travellers spellbound. The robust ramparts and the palatial alleys together with vibrant bazaars, makes Jaipur as one of the busiest tourist destinations in India. Along with New Delhi and Agra it falls under the popular Golden Triangle package. Thus you can expect the rush of tourists during its peak time and the best time to visit Jaipur is during the winters when Jaipur climate dwells a temperature ranging from a minimum of 13 degree to 25 degree. Nonetheless Jaipur offers hot semi-arid climate and the temperatures remains relatively high all through the year.
The weather in Jaipur during the summers jumps up and scorches in between 35 degree and maximum of 48 degree, which is extremely and deadly hot and dry. Jaipur temperature ranges in between 30 degree and 37 degree in the month of April whereas it is at its best of its extremity in the months of May and June. Monsoon is occasional in this part of the country though one can expect medium to heavy rainfall in from July to September and the temperature in Jaipur drops to a minimum of 30 degree and cudlles to a maximum of 40 degree.
From October the temperature in Jaipur nestles at 25 degree and 30 degree and falls to 15 degree in November. From December to February the temperature can touch a low mercury level of 4 degree and this is the most ideal time for holidaying, sightseeing, and engaging various tourist activities.